Scientific research has shown us that being generous makes us feel happier. There is something oddly satisfying about watching someone unwrap a gift and respond with pure joy and awe. But, finding the perfect gift can be extremely hard, especially when that person in your life seems to have everything. You know the type: whenever they want something, they just go and buy it for themselves, leaving you scratching your head, trying to find something that will genuinely surprise them.
You are probably tempted to make a big gesture like buying a star and name it after that special someone in your life. While that is certainly romantic, the reality is that you are only spending money on a certificate that claims you have a star. Nobody truly owns these cosmic bodies to be allowed to sell them. It's an empty gesture, according to NASA.
Instead of spending your money on empty promises or buy something meaningless just for the sake of giving a gift, we're here to make the case for another special out of the box present: a tree.
Why Would You Gift Someone a Tree?
A tree doesn't really pop into anyone's mind when looking for a present, but it's the perfect symbol to mark a special moment or show someone your love for them.
Trees have a rather complex symbolism, often being thought of as the link between Earth and Heaven. With its body rooted in the ground and its crown reaching toward the sky, it's the perfect representation of a bridge that connects two different worlds. Their strength and endurance in the face of adversity are a symbol of longevity. Fruit-bearing trees can symbolize fertility and nurturing energies.
Some trees have their own cultural meaning and significance. The oak tree, for example, is seen as a symbol of strength and longevity as they can live for hundreds of years. The maple tree is often associated with intelligence and adaptability as it can adapt to different types of soils and climates. Many cultures see the crape myrtle as a symbol for marriage and think that planting one will bring peace and love to the family.
There is rich mythology behind trees as cultures around the world hold them as sacred symbols. Besides the profound and beautiful meaning some trees hold, gifting one is something your loved ones can cherish for their entire lifetime. The generations after, could also benefit from it. Unlike stars, a tree is something that can truly belong to you, and you can become actively involved in keeping it healthy and watch it grow. It can be a mirror image of a person's own growth or a symbol of your relationship.
A tree is also an environmentally-conscious present that's perfect for the eco-lover friend or family member. Our planet is in desperate need of new trees because of mass deforestation rates that are killing the world's forests at a fast pace. Using trees as a gift inevitably helps us restore the world's natural forest. It's really a gesture we'd like to see become the norm.
The next time you're struggling to find a gift for mom, a gift for dad, your spouse, or a friend, consider planting a tree in their name!
What Occasions Can You Mark with a Gift Tree?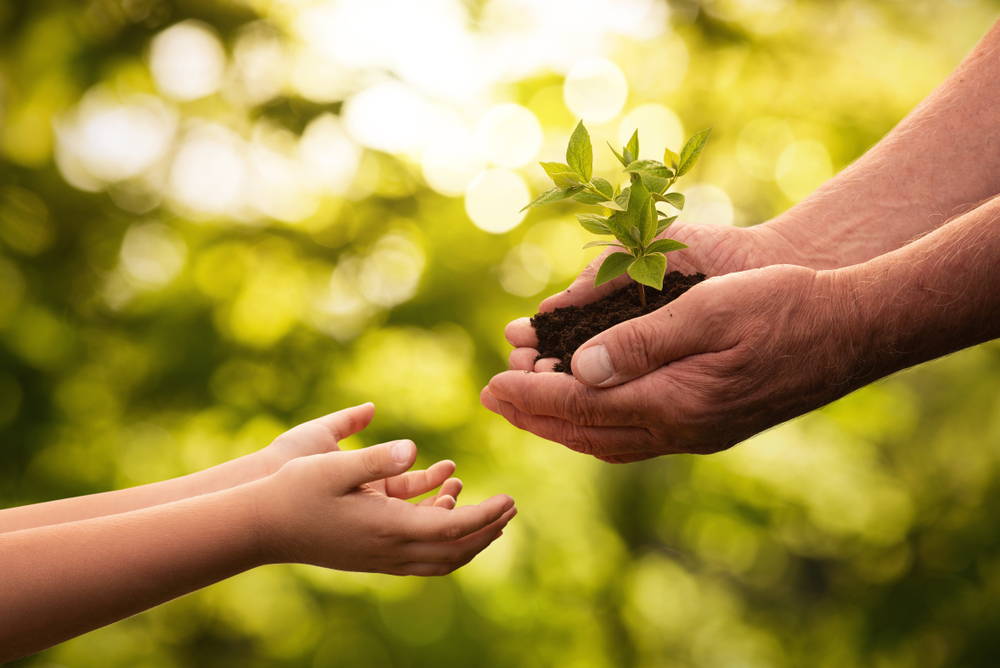 The possibilities here are limitless, and you can gift someone a tree for virtually any occasion. Here are some suggestions:
Father's Day or Mother's Day - How better to show your love towards your parents than to gift them something that will last for decades?;
Valentine's Day - You can buy a bouquet of flowers for your significant other this Valentine's Day, but once the flowers wilt, the gift will be forgotten. A tree will last for generations and it's the perfect symbol for longevity and life, the two elements deeply connected to love and relationships;
Wedding Gift - A coffee machine can come in handy, but will the couple really think of their special day when using it? A tree can be a beautiful reminder of their love and a symbol of love and commitment;
Anniversary Gift - You can gift a tree to Mark almost any type of anniversary, be it a wedding, birthday, or a special occasion. Choose something that has a special meaning for that particular event;
Memorial Gift - Someone passing away is never easy, but planting a tree in their honor can help keep a little bit of their memory alive;
Birth Gift - When a child is born, you can plant a tree in their name that very same day, and track its evolution as the child goes through different stages of their life.
How Do You Actually Give Someone a Tree?
You can look for a sapling and pick a good location to plant a tree for someone. Or you can purchase a gift card and let them take part in planting their own tree. That way they get to enjoy the full experience of planting a sapling, learning about how to care for it, and witnessing their work grow into a majestic tree.
If you've never planted a tree before, look for an organization that can help you with the process. It's crucial you understand when it's the best time to plant a tree, the native species, the particularities of the biome, and so on.
Whether you're looking for gifts for men or for women, instead of going to the mall to buy something generic, purchase something of true meaning to show exactly what you feel about them.
A tree symbolizes life itself, and gifting one to a person you love is truly a special gesture that will be remembered for a lifetime. We'd recommend you go hands-on and try to plant the tree yourself, as it's an amazing, unique experience you won't forget!
Go outside the box and give your loved ones something that will last a lifetime. Plant a tree now!
---
As many as you like!
$XUSD
You're a hero! You've helped eliminate 10 tons CO2 from the environment!
Planting a forest
---